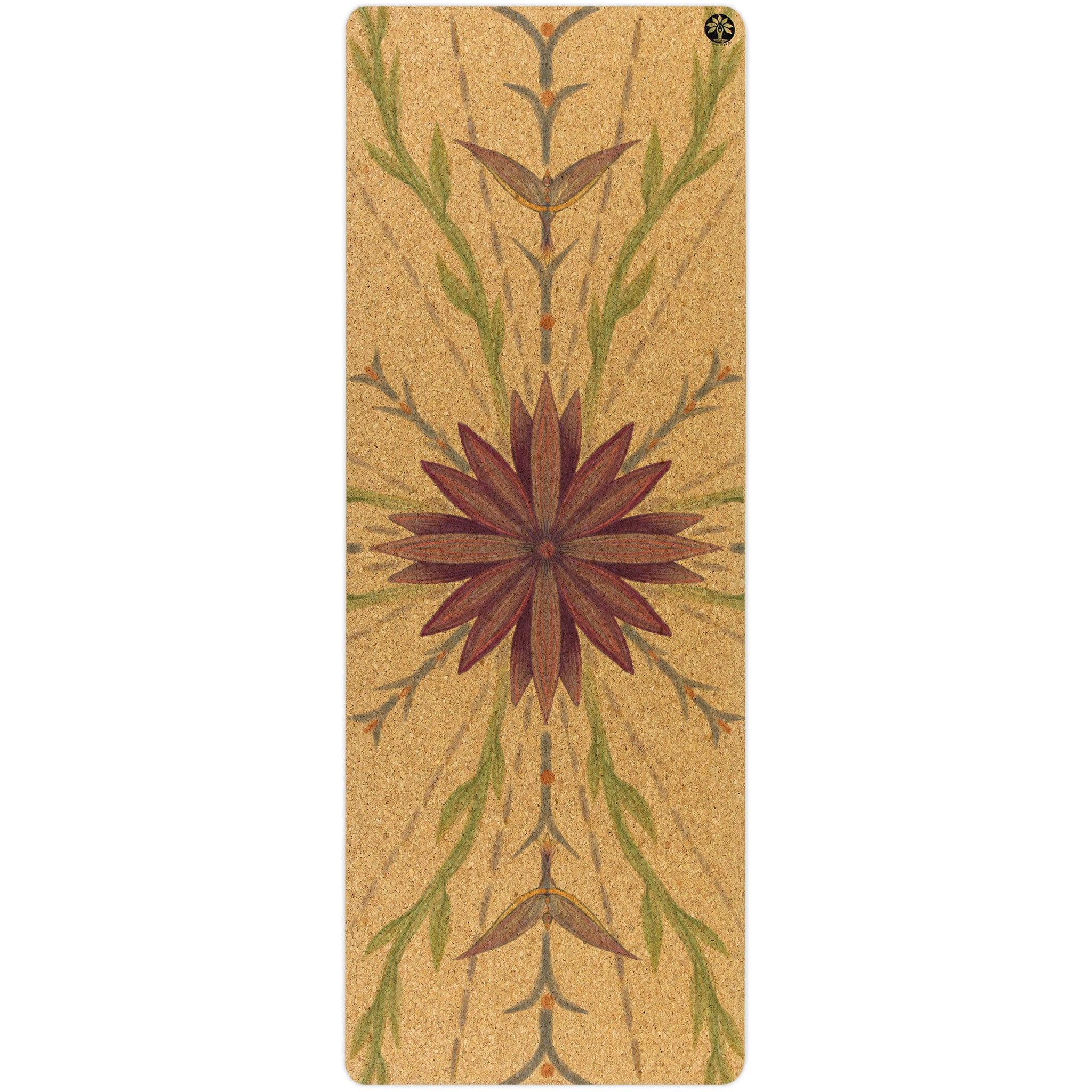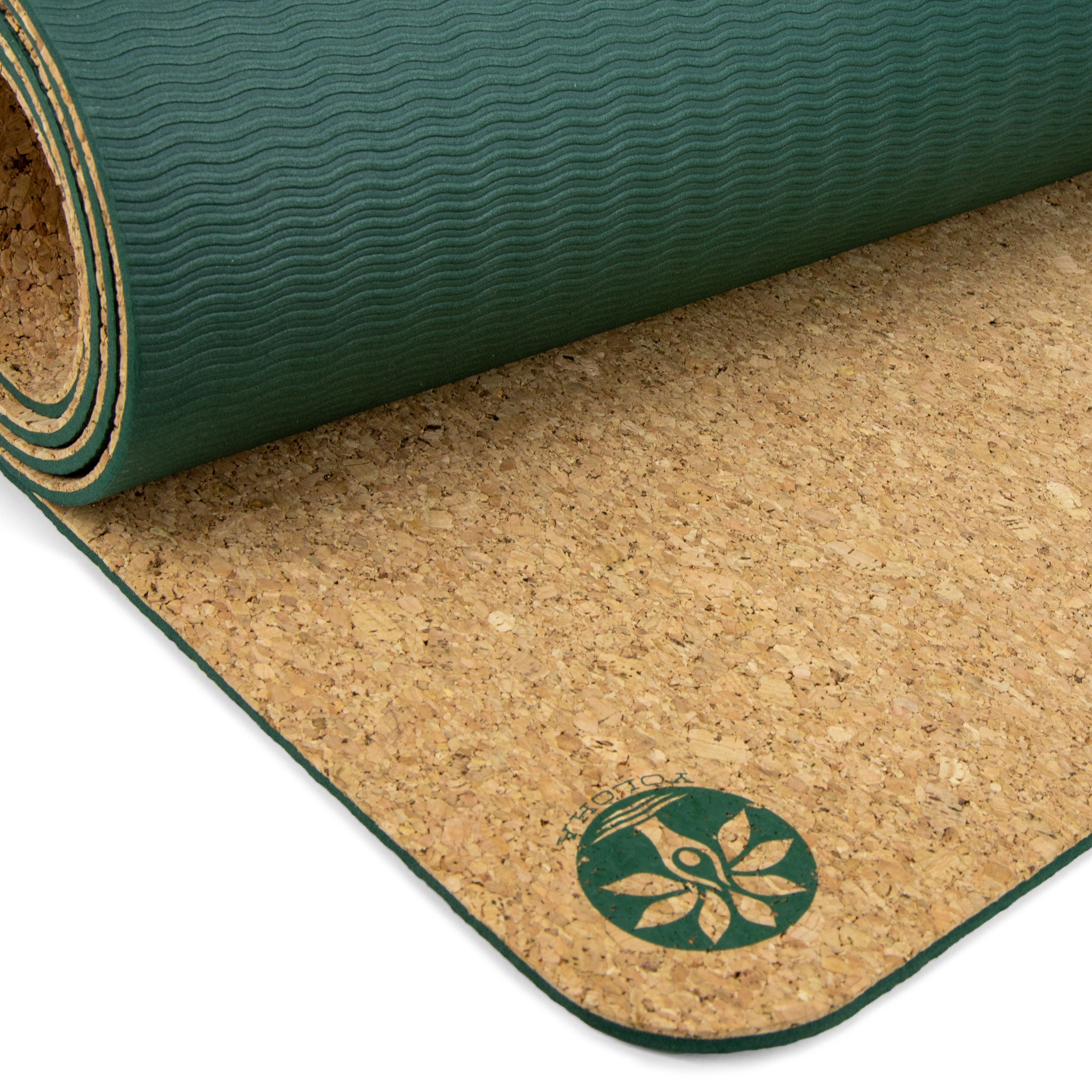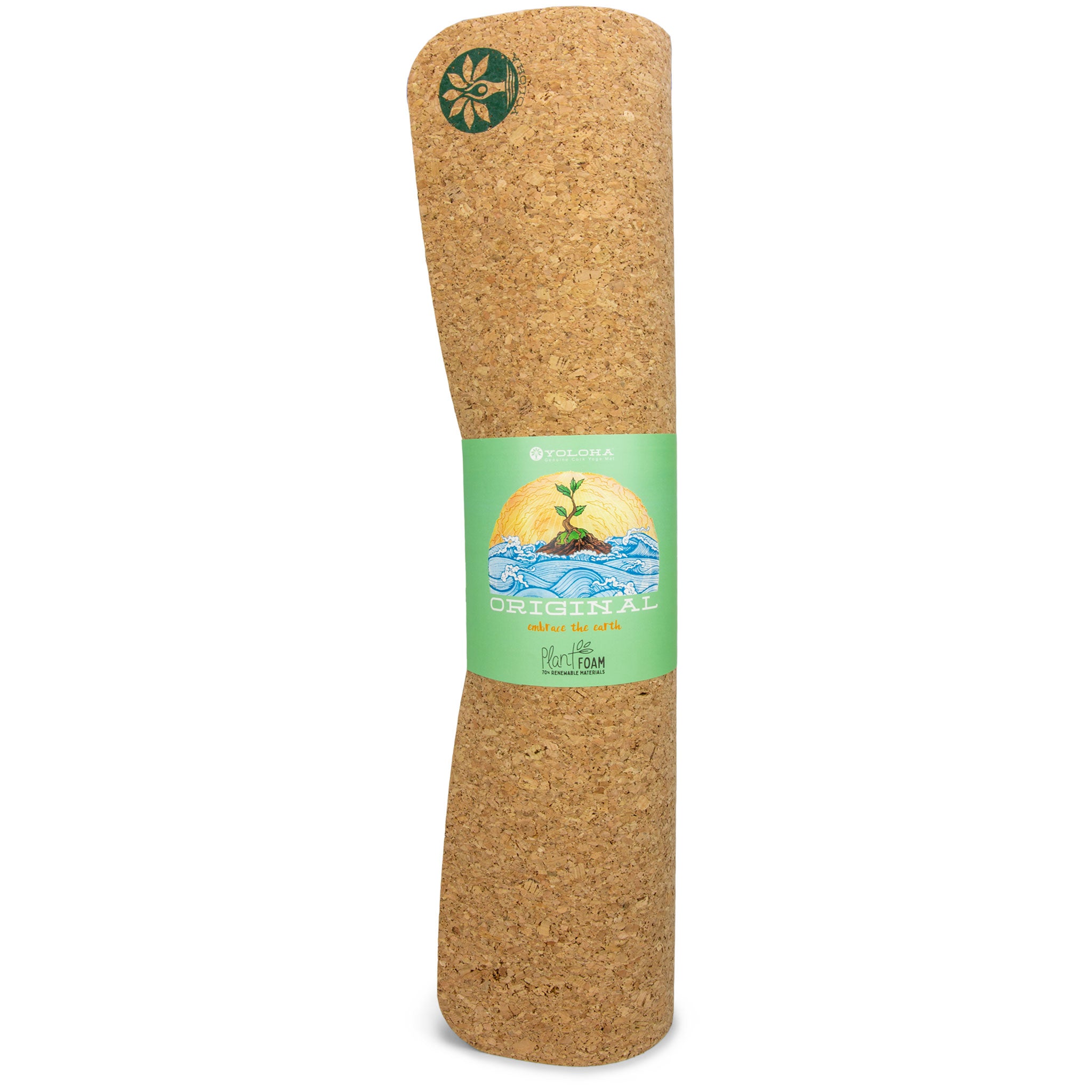 Flight Home Original Cork Yoga Mat + Plant Foam
The Original reimagines how a yoga mat made from 70% renewable materials can be so high performing for any practice. The world's first cork yoga mat uses a premium layer of extra thick cork for a grounded, non-slip experience dry or wet with no need for a towel. Our non-toxic foam bottom is optimized for cushion, stability and energy return.
6mm thick | 2.8 lbs. | 5.5" rolled
Non-slip dry to heavy perspiration.
Made with 70% renewable materials.
Ideal balance of comfort and support.
Lightweight and portable yet grounding.
Always lays flat, will never slide or bunch up.
Easy to care for and keep clean.
No PVC's, latex, plasticizers or rubber smells.
100% vegan product.
Free shipping on USA orders over $175.
Return shipping is FREE within 30 days for all USA states excluding Alaska, Hawaii and USA territories.
Lightly spray with Yoloha mat cleaner or natural cleaner after use and lay flat to dry.
Grip Tip: Cork increases grip when wet. Use our grip spray or sprinkle water on your mat where your hands and feet go before practice for extra traction.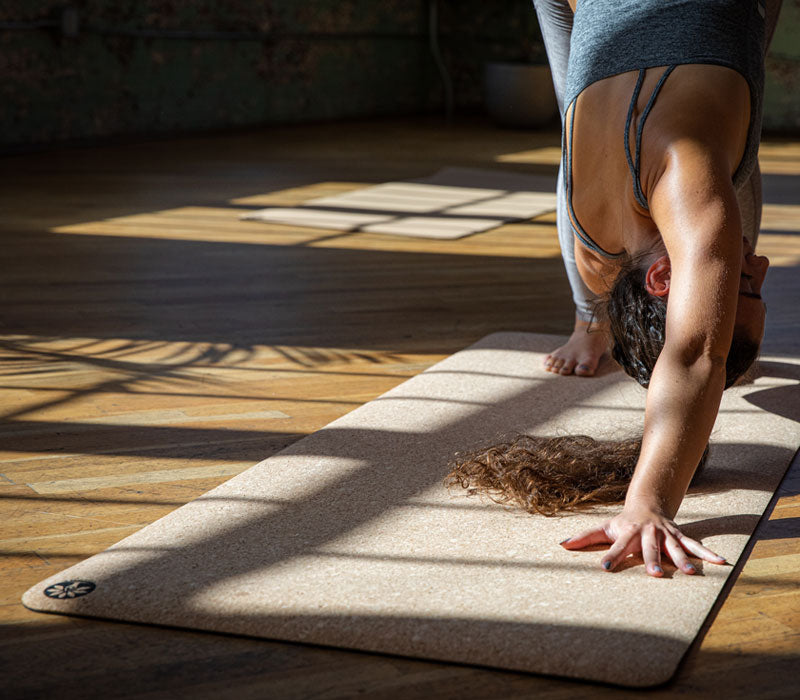 performance done naturally
Extra thick cork surface is designed to perform even during the sweatiest classes. No rubber smells or bunched up mats. Ditch the towel and focus on one thing, your practice.
feel grounded and connected
Our signature cork and foam blend is optimized for cushion, stability and energy return. 100% natural cork surface allows you to feel grounded and connected with the earth.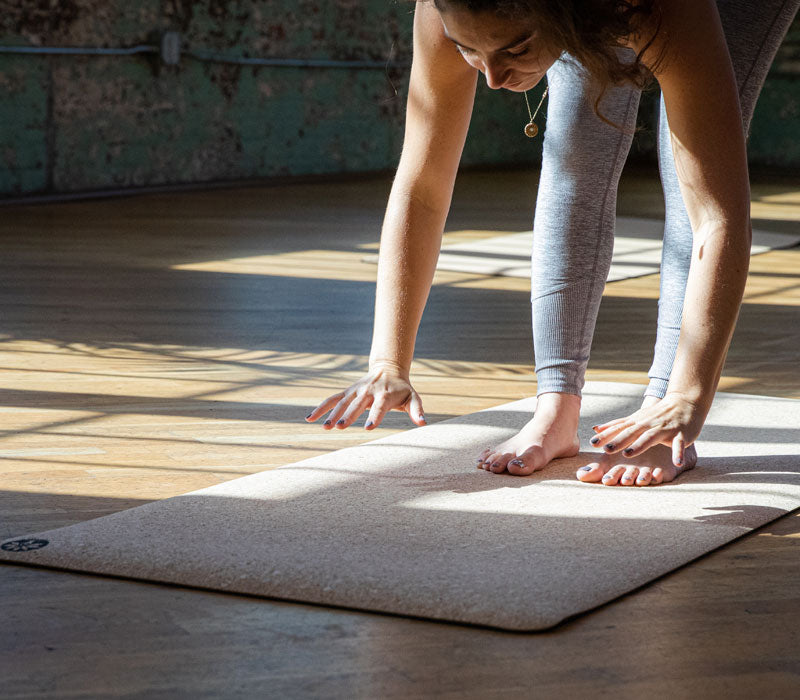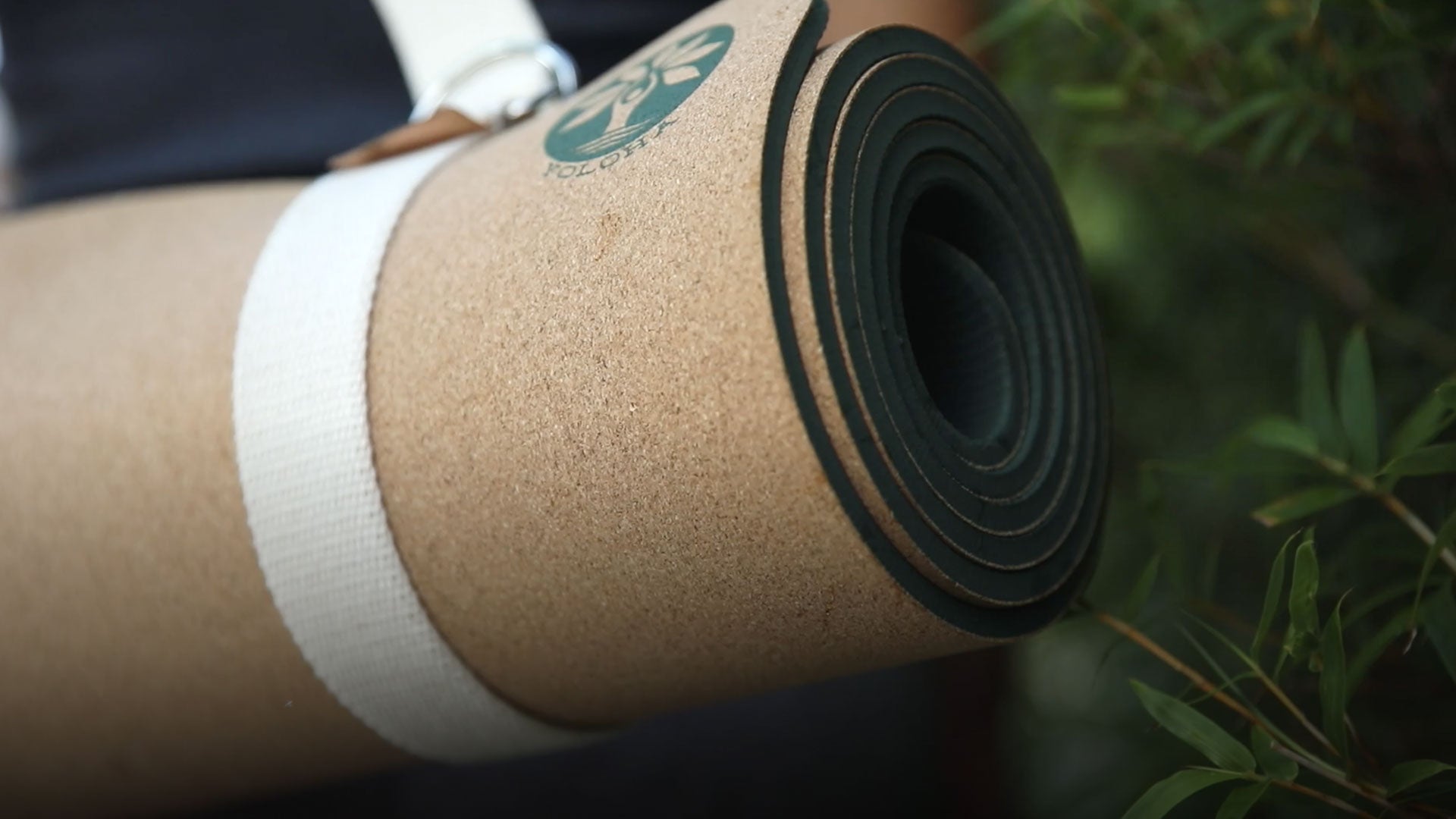 foam made from plants
Developed out of our effort to reduce the environmental impact on our planet, 55% of the foam on the Original is made from sugarcane. Combined with our sustainable cork surface we have achieved a yoga mat made with 70% renewable materials.
Love the mat thought I ordered a longer one but I didn't it was my mistake but great mat
Latex allergy safe
I was looking for a latex free mat after realizing my Liforme was causing allergies due to the rubber. I really wanted something non-slip and my new Yoloha is perfect and beautiful. Thank you!
Thank you for your review Jazmine! We're glad to hear that the Earth Rest mat works well for you. ❤️
TURTLE 🐢 "CRUSH" MAT
Hello, meet Crush!!
I have to say that it does have a strong rubber order to it. But, other than that, I love my new "Crush" Turtle mat. It's so beautiful and comfortable. Every day, I look forward to using my turtle yoga mat!!
Oh, and by the way, it doesn't smell like rubber anymore!!! The smell goes away in about three days.
I would totally buy another and another just because they are awesome!!
Thank you for your great review Monica! We're glad you love your new Turtle mat! ❤️
98% love it
What works:
Grip, I've had no issues with slipping when dry and certainly no issues when I begin to sweat. You can transition super smooth and then lock in once you're set.
Feel: It is really nice, cozy in a natural way, not sticky, not standard mat feel, has a nice smell
Width: Wide enough for comfort
Carry: Rolls tighter than I expected, isn't heavy, balances nicely in transit (studio is 5 blocks from home so 10 blocks per trip)
Sturdy: I feel like it should last, honestly some people should really retire their standard mats way sooner so if this deteriorates in time then I think it's the universe speaking
During class: Rolls out 99% flat initially and eases down 10% in 10 minutes or so, doesn't slip on the floor, the surface gives a nice, natural amount of slide from pose to pose that you don't get from a standard mat but then you stick once you're set in position, doesn't seem to pick up every bit of dust and stray hair in the studio either.
Over all: I like it, I feel that it is appropriately priced and provides some unique features vs a standard mat. Maybe it's not your everyday mat, it is for me because we live in a city where space at home comes at a premium. Don't underestimate the value of its unique transition ability as you move from pose to pose
What doesn't work: (sort of)
Firmness: The top cork is a little hard but so is life so the mat is sort of a metaphor honestly. The firmness only really matters in very few long poses and it's easily mitigated by placing a hand towel or yoga blanket down. It's not like you'll be surprised if the instructor puts you in a 5 minute pose so you have time to prep. I'd say get the test sizes and see for yourself but I don't think they'd give you a true sense of the firmness, just get the mat and see if it matters to you, my guess is that it might but I'm 52 and was a paratrooper so if these knees don't mind then yours probably won't either.
Cork imprint: Yea, you'll get some textures imprint if you're down in on spot for a long time. It goes away
Length: I know the sizes are standard regular and long but if you're 6'1" the the regular is a touch short and the long seems like overkill. A 74" option would be great but then again nobody has those.
It's a little flashy: Maybe you like to stand out but not me so it being so different and also pretty is hard for me
I'd buy it again because standard mats feel gross and slip and that's not worth a little more cushion to me
Thanks for your insightful and informative review Christopher! ❤️
Cork yoga mat
I chose this cork mat mostly because cork is an environmentally friendly product. I also like the look of it. I've had it a week and used it 3 times. So far it's great. I like the cool feel of the cork. It doesn't get hot or sticky. It also doesn't get slippery which is important to me. The only minor issue is that since I have to keep it rolled up when not in use, the ends don't lie completely flat. It hasn't caused me any problems in my yoga practice though. Probably leaving the mat unrolled on the floor most of the time would resolve that curling problem.
We're glad to hear that the cork yoga mat is holding up well so far Elise! We think that leaving the mat unrolled on the floor most of the time would solve the curling problem. ❤️
Exactly What I Wanted
I bought the Yoloha cork mat because I not only hated having to place a towel over my rubber mat but was annoyed by the slipperiness during a hot yoga session when the former soaked through. The Yoloha works as advertised. True, some may find it less soft but trading a bit of hardness for traction and the one-piece practicality of the mat, not to mention easy cleaning, has been a joy. Worth every penny.
Still the Best Yoga Mat Ever After 2 Years of Regular Practice!!!
I bought this Yoloha Earth Rest Original Cork Yoga Mat in September 2021 and have used it 4-5 days a week for two years. This mat has incredible grip and is so comfortable to use. It still performs just as well as it did when I first bought it. I'm starting to think I may never have to buy another yoga mat again!
This mat is fantastically grippy especially when I'm warm and sweating. It never slips around on the ground, and the cork provides just enough cushion to be comfortable on my body without feeling like I'm doing asanas on a mattress. None of the cork has chipped off in two years and it's still functionally identical to how it was when I bought it. My cats like to use it as a scratching mat, and they still can't destroy it! (In fact, I think their little claw-holes have only made it grippier....)
Aesthetically, it does show some signs of wear. The design has faded in places and the four points where I usually place my hands and feet are darker than the rest of the mat/a little sweat-stained. I actually really like this because it's proof of how much I've practiced over the past two years. The only drawback to this mat is that it's not very portable, but it's perfect for anyone who primarily likes to practice at home. I am amazed by the durability of this yoga mat and it is 1,000,000% worth the price I paid for it.
Thanks for the amazing review! I'm so glad I bought this mat Samantha! ❤️