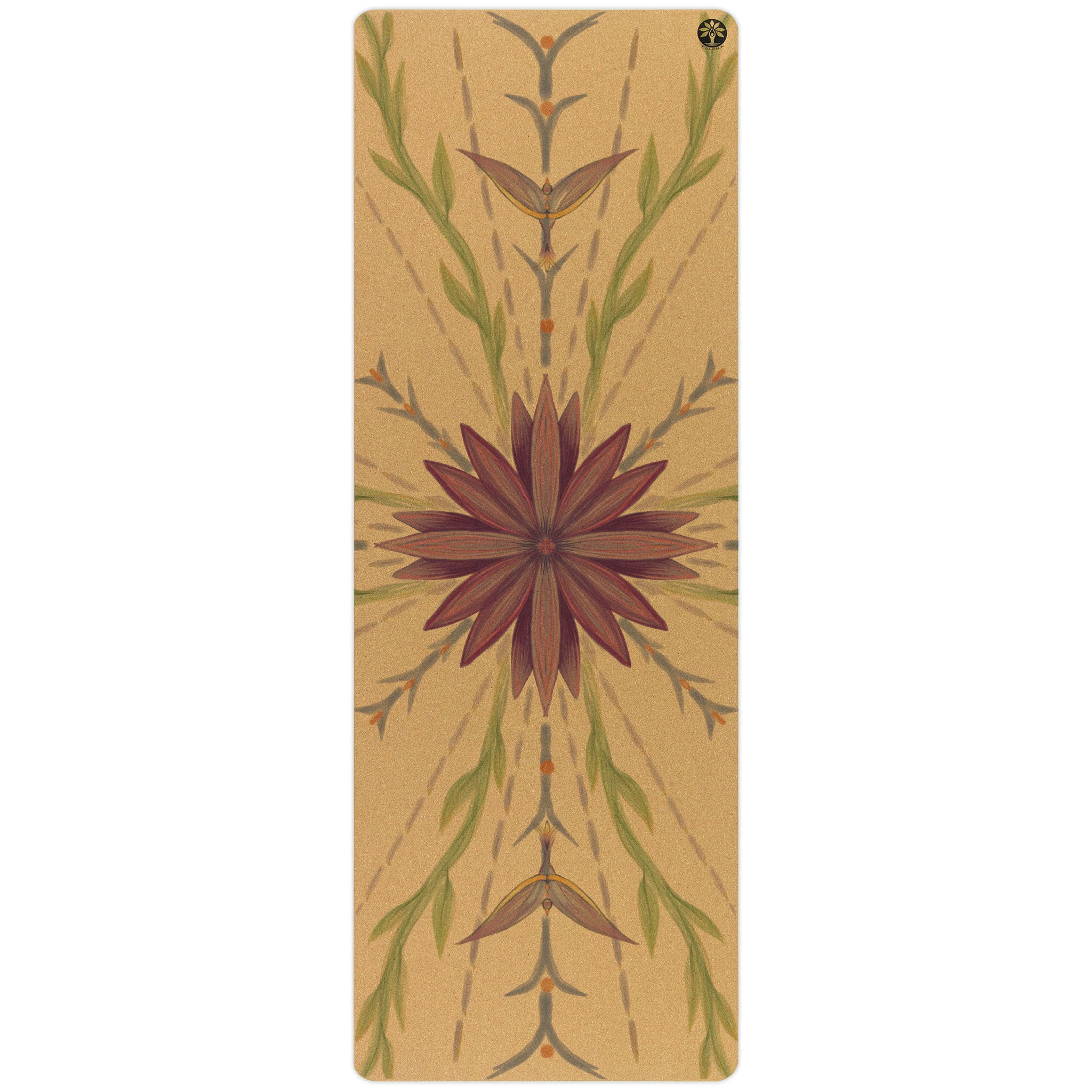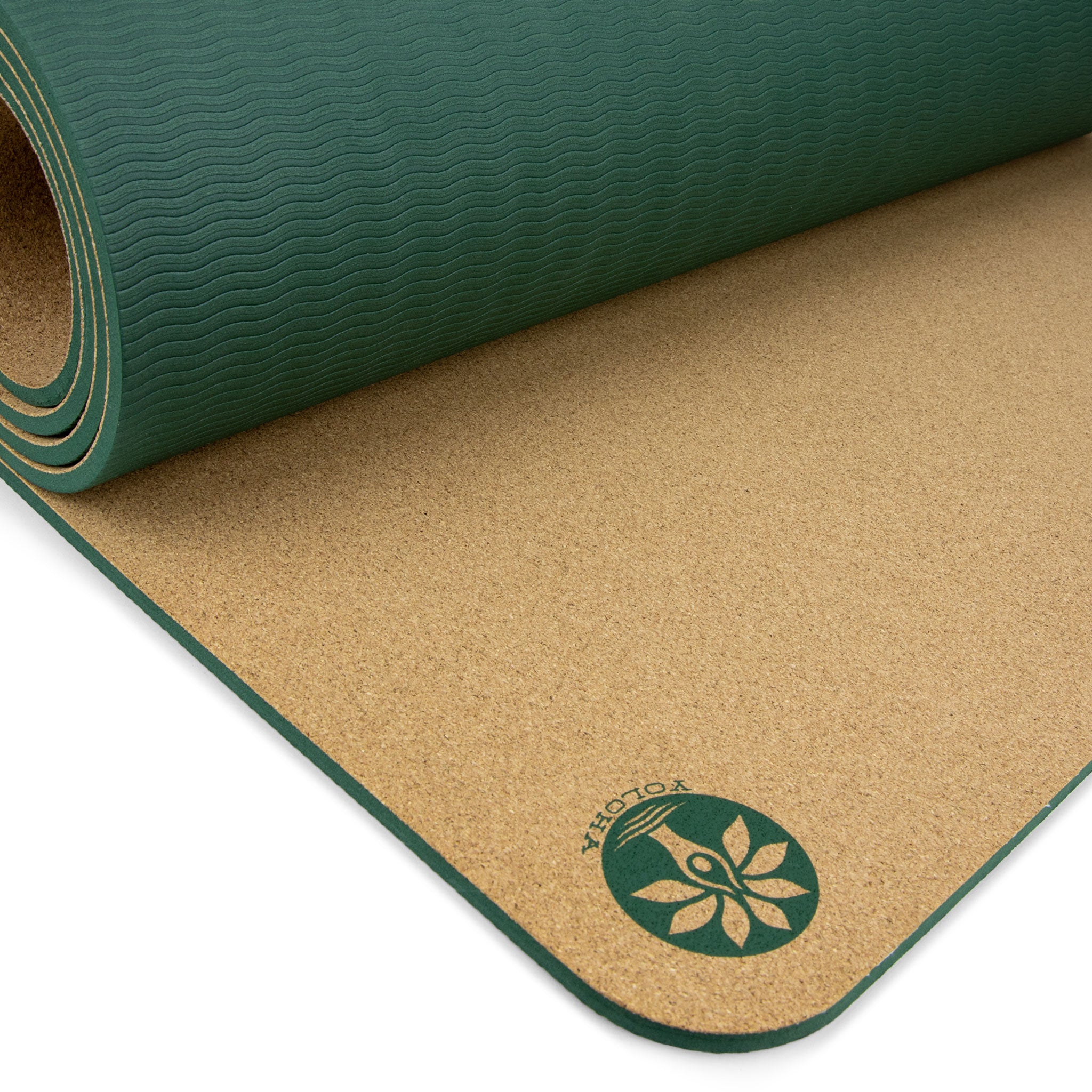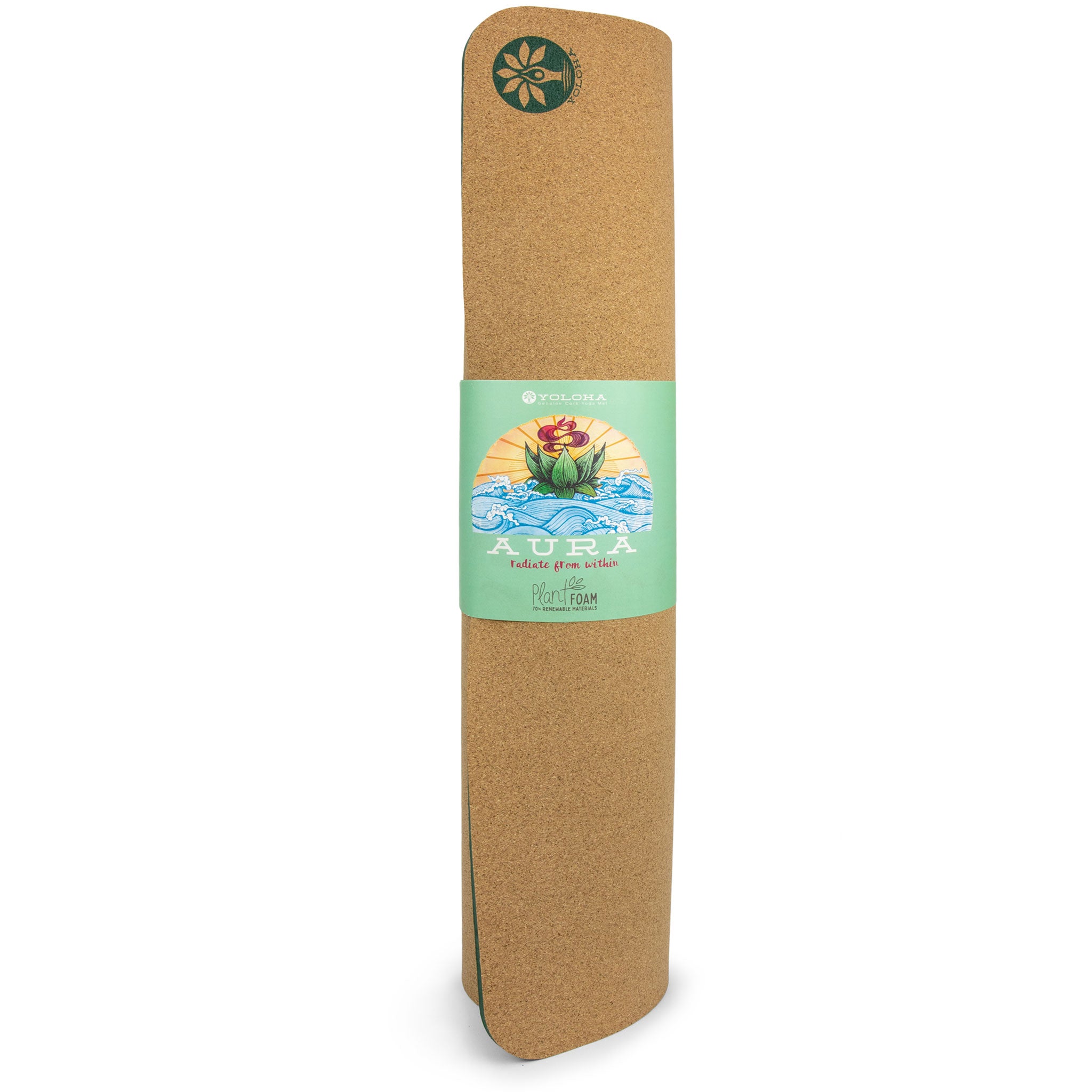 Flight Home Aura Cork Yoga Mat + Plant Foam
The Aura with plant foam was created with comfort and sustainability in mind. Made from 70% renewable materials, our most cushioned yoga mat provides added support for your joints. We developed a fine grain cork surface for a soft feel, yet with no sacrifice on grip which increases with moisture. Care is easy with a naturally antimicrobial surface eliminating bacteria and a closed cell foam bottom that won't absorb moisture or smells. The Aura will completely change your perspective on how a yoga mat can be so light, yet ultra durable and high performing.
6mm thick | 2.8 lbs. | 5.5" rolled
Non-slip dry to medium perspiration.
Made with 70% renewable materials.
Ideal balance of comfort and support.
Lightweight and portable yet grounding.
Always lays flat, will never slide or bunch up.
Easy to care for and keep clean.
No PVC's, latex, plasticizers or rubber smells.
100% vegan product.
Free shipping on USA orders over $175.
Return shipping is FREE within 30 days for all USA states excluding Alaska, Hawaii and USA territories.
Lightly spray with Yoloha mat cleaner or natural cleaner after use and lay flat to dry.
Grip Tip: Cork increases grip when wet. Use our grip spray or sprinkle water on your mat where your hands and feet go before practice for extra traction.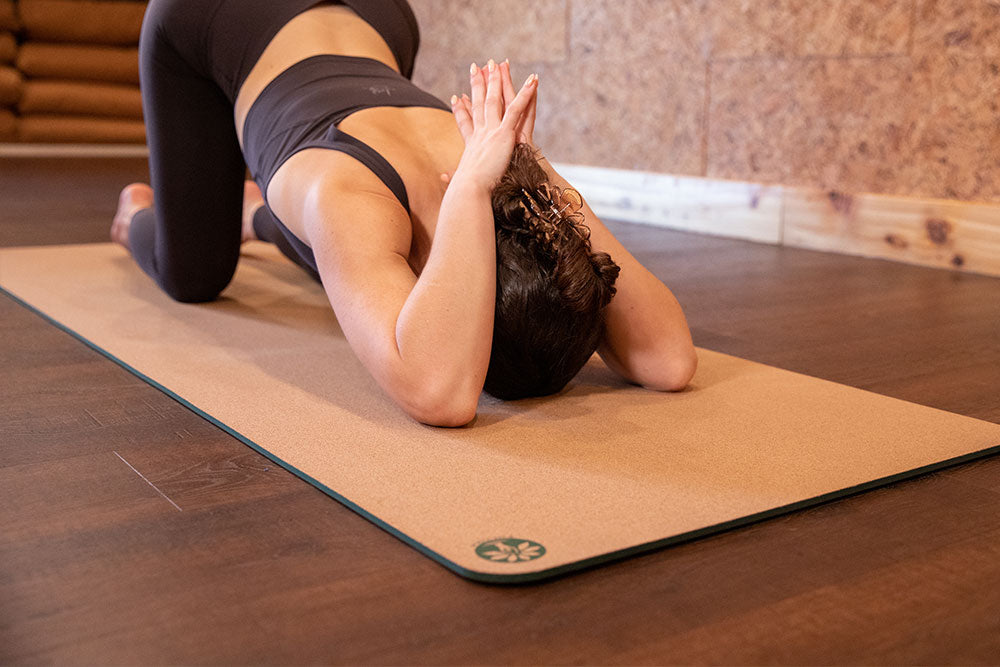 Naturally High Performing
Fine grain cork surface is designed for a soft feel, yet with no sacrifice on grip which increases with moisture. Feel grounded and confident in any yoga practice.
Ideal support
Our signature cork + foam blend is optimized for cushion, stability and energy return. Lays flat every time and grips to any surface.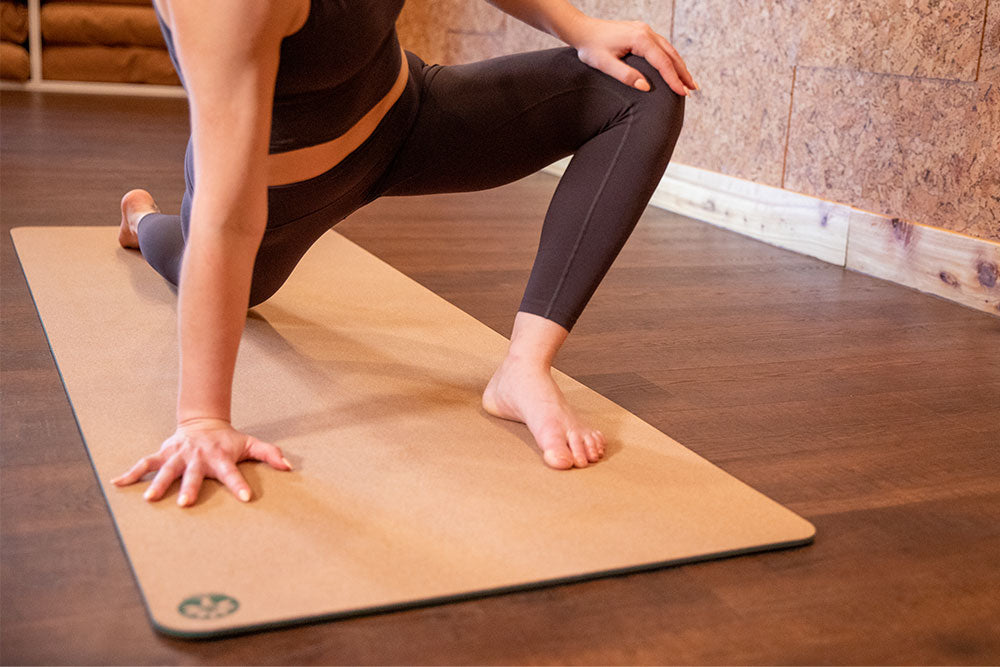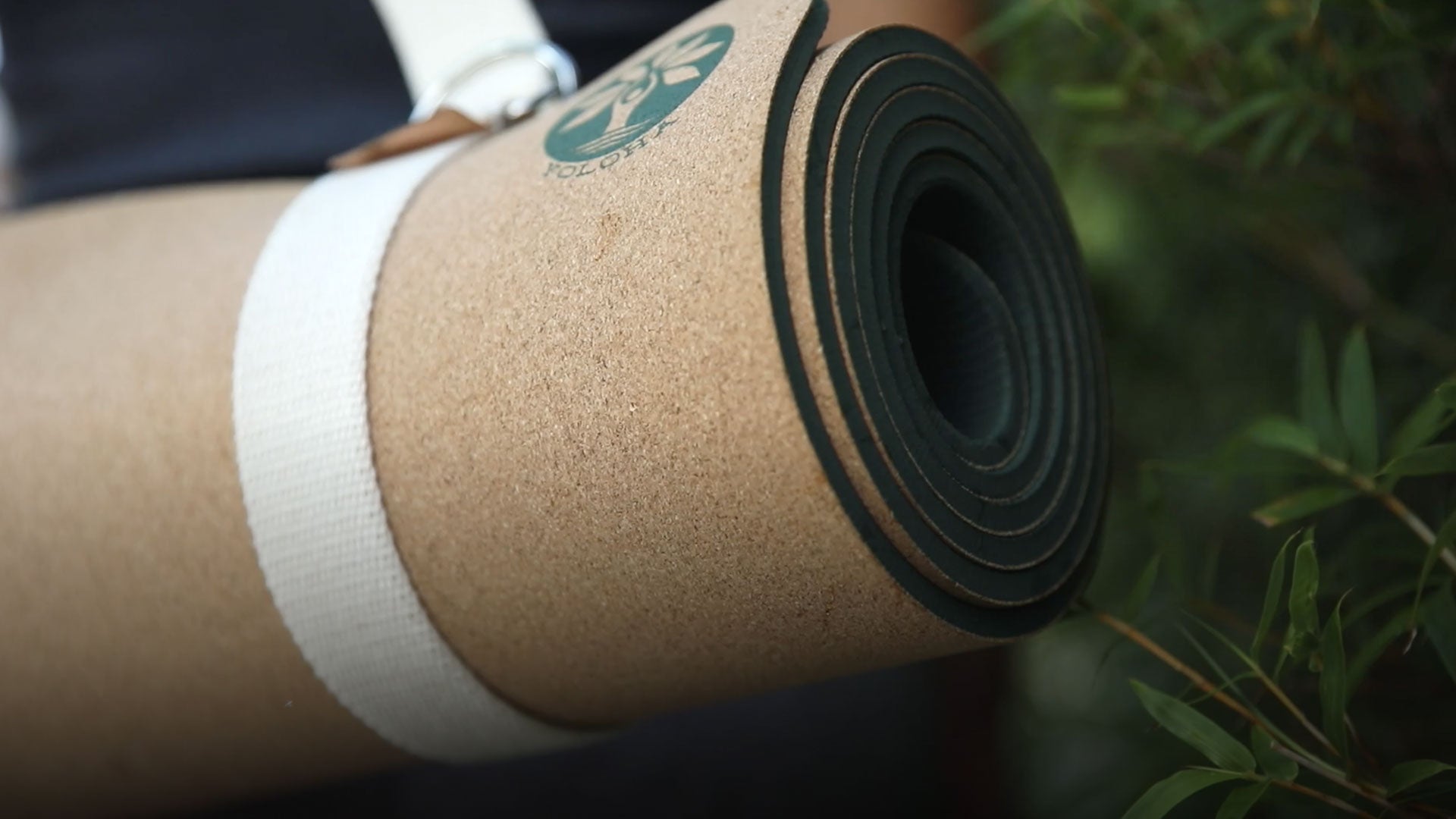 foam made from plants
Developed out of our effort to reduce the environmental impact on our planet, 55% of the foam on the Aura is made from sugarcane. Combined with sustainable cork surface we have achieved a yoga mat made with 70% renewable materials.
AWESOME MAT
Love this mat! The mat is light and durable. The Ponds of Harmony print looks awesome. The mat has plenty of grip especially when sweating. Just the right amount of cushion for comfortable practice.
This really is a great mat V! The print is really nice and the grip is great! We are so glad you love it ❤️
Beautiful mat
This mat is very nice and I like how it becomes grippier throughout the class as I sweat. The design and colors in person are really vibrant and lovely. My only qualm is that it is super light and very difficult to keep rolled up. I am hopeful that as I use it more it will become easier.
Thanks for your review Lisa! We're happy to hear that you love the mat and appreciate the grippy surface. We think that the mat will become easier to roll up with use, and we hope you have a great class experience! ❤️
Better than Lifeforme
I've been into hot yoga for about three years now. I go 5 to 6 times a week. For a year I used a Lifeforme because it's supposed to offer the best grip when heavily sweating. Because I use it so much I'm always having to dry it and clean it but it always keeps an odor. Ever since I ordered the Yoloha cork mat I still use it as often, dry it after use and there has been no heavy odor. I've been using it almost every day for two months. The few bad things however are that it is very bulky and difficult to roll (which is fine) and the cork is beginning to crack wear on the sides of the mat. It doesn't impact the grip offered during practice, however. For the proof point, I'd say this is the best yoga mat for people that do a lot of hot yoga. No towels, quick dry, and best of all no smell.
Thanks for writing this honest and very informative review Jamal! We're glad to hear that you're happy with your Aura Cork Yoga Mat ❤️
Love This Mat - Print Helps w/ Progress Too!
So happy with this purchase! Incredible company, love its family run, high quality and the details are seen at every step. I love this print in particular as it helps me, as a beginner, with pose positioning, and measuring progress on poses as I advance. Raving Fan!!
Great review Chris! We're so happy to hear that you love the mat and find it helpful for your progress. Thanks for your support! ❤️
My wife love this mat. Soft and comfy but still firm for balance. Stays clean and is odor resistant.
This is a beautiful and very comfortable mat for yoga.
Thank you for your feedback Pamela! We're glad you're enjoying the mat ❤️
This mat= best part of my day
This mat is so supportive, beautiful and has fantastic grip. I was on and off with my yoga practice for years. Since buying this mat, it truly has changed my overall practice for the better. I look forward to my time on my mat. It is the best purchase and definitely recommend!
Thank you for your kind words Sarah! We're so happy that you've found our mat helpful and supportive. Enjoy ❤️