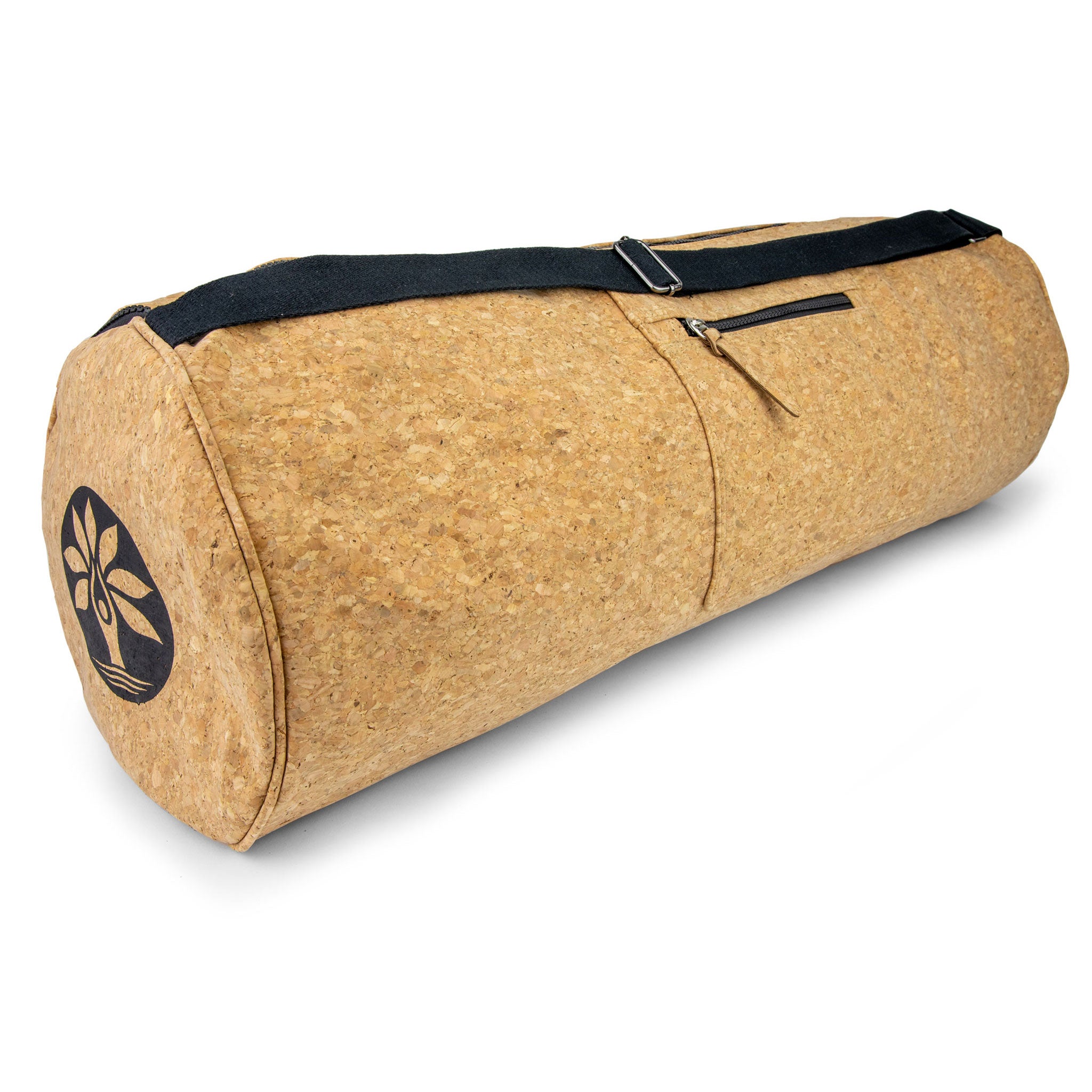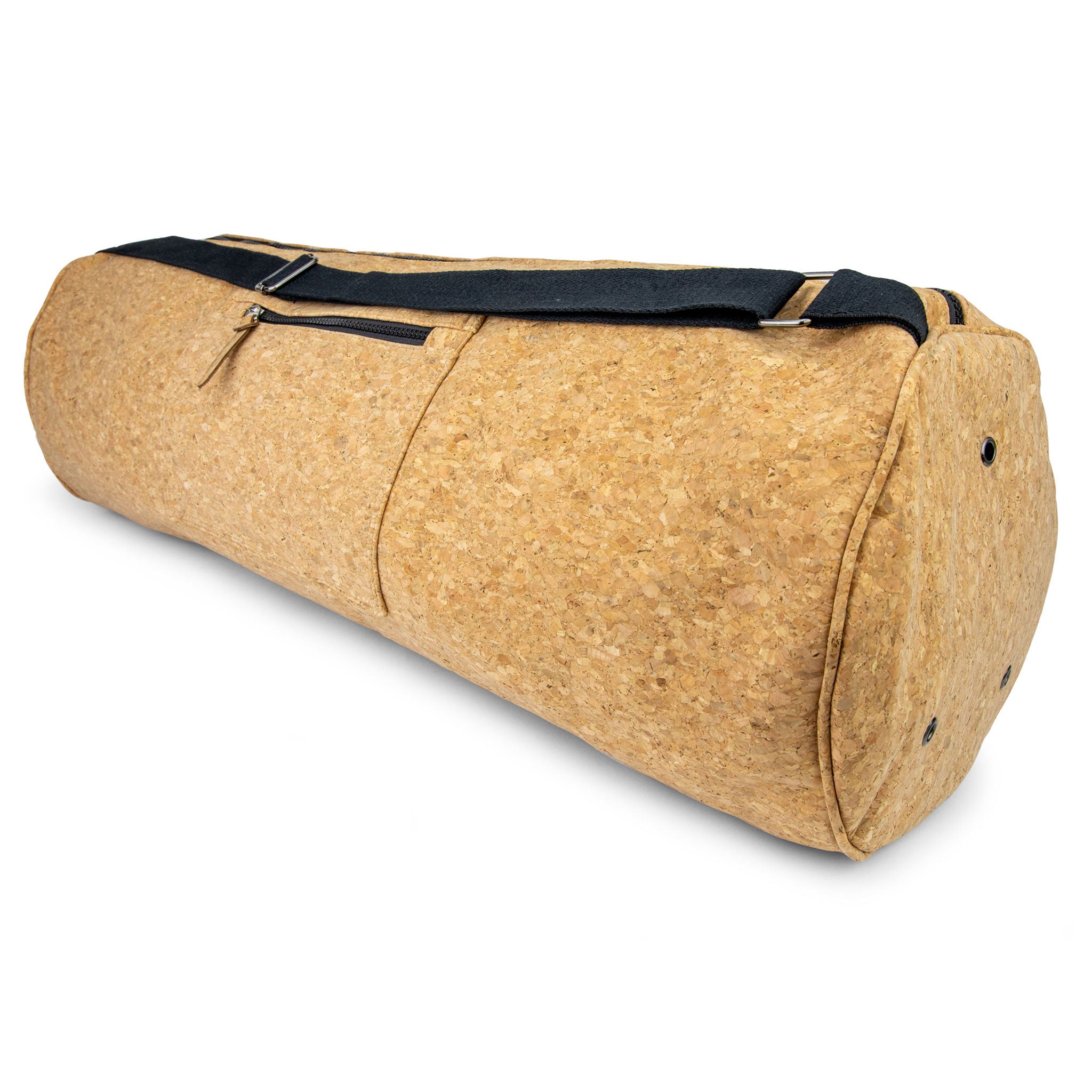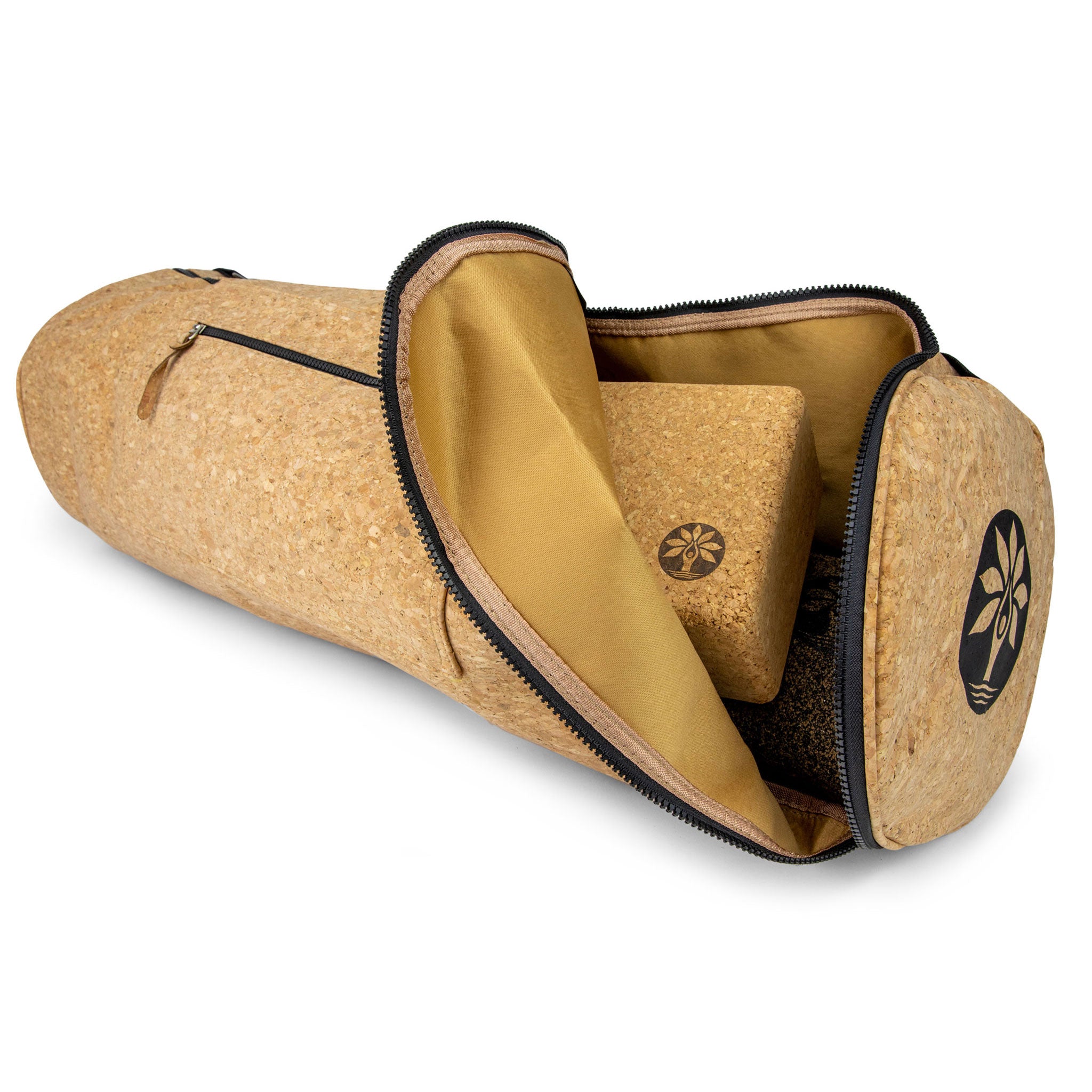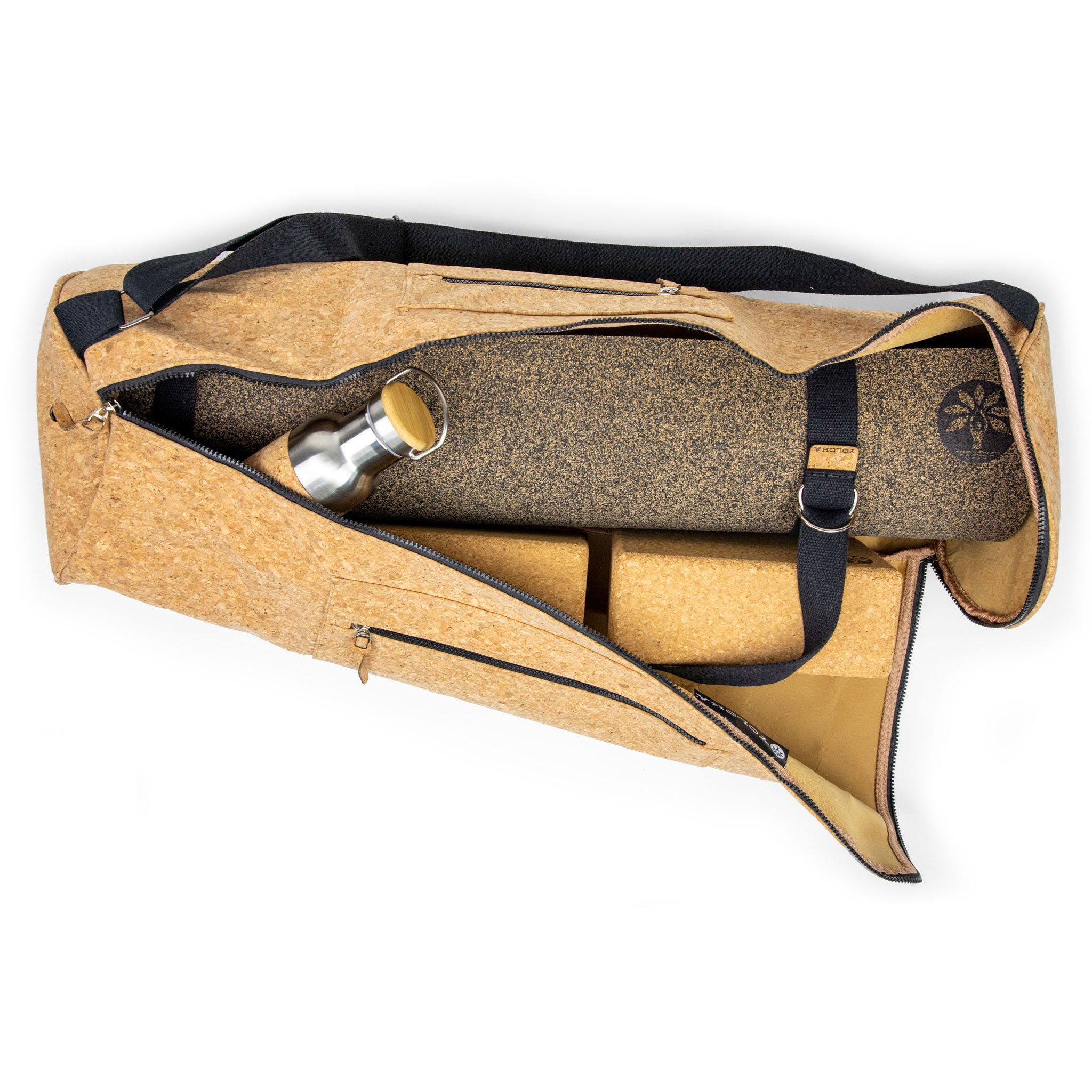 Cleverly designed yoga bag to support your active lifestyle. Handmade using natural cork which is easy to clean and extremely durable. An extra roomy interior fits mats up to 30 in. wide plus 2 cork blocks, water bottle and much more. Includes two separate outside pockets for valuables. Features a "J-Zipper" so you can quickly remove your mat from the bag without completely unzipping and a fully adjustable cotton strap for every body size. Built for sweaty gear with triple grommet holes in the bottom to let your gear air out and nylon lined interior that won't absorb moisture.
10" diameter | 30" long | 1.8 lbs.
Pocket sizes: 10"w x 8"h & 14"w x 8"h
Made with extremely durable natural cork.
Easy to keep clean with nylon lined interior.
Triple grommet holes to allow air flow.
Adjustable cotton strap.
J-zipper to quickly remove your mat.
100% vegan product.
Free shipping on USA orders over $175.
Return shipping is FREE within 30 days for all USA states excluding Alaska, Hawaii and USA territories.
Washing machine safe on gentle cycle and cold water. Do not use bleach. Allow to air dry.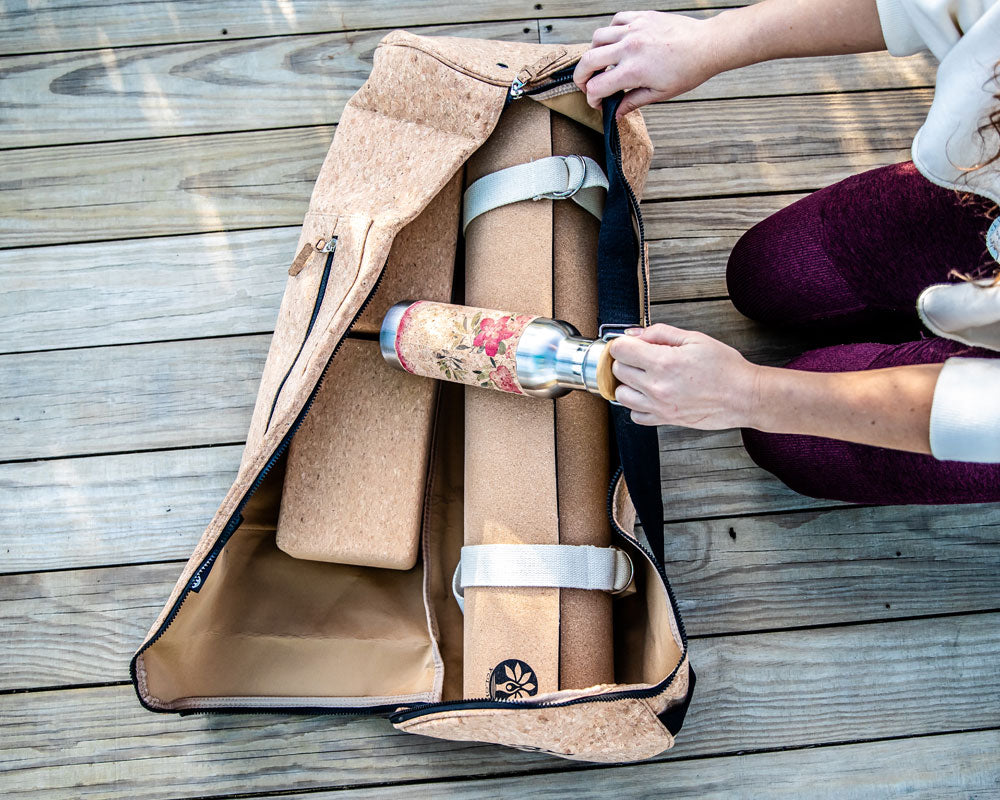 take more on the go
Extra roomy interior is designed to hold mats up to 30" wide, 2 yoga blocks, water bottle and much more.
Love it yesterday my ziper pull tag broke off . But its being a wonderful. Bag
Best yoga bag
I saw someone with this bag and she raved about it. I was looking for something that had enough room for my mat, blocks and towel. This bag is the answer. I receive so many compliments on it and have probably sold 3 bags in a week to people at the yoga studio.
Thank you for your kind words Diana! We're so happy to hear that our Cork Yoga Mat Bag is helping you out in your yoga practice ❤️
AWESOME BAG!
This lightweight oversized bag has been amazing! It holds my mat, two blocks and two straps with room left over. Because it's so light, I can easily transition between the three locations where I lead classes.
Thanks for letting us know how much you are loving your cork bag Donna! Enjoy ❤️
Everyone wants one and Yoloha needs more designs!
The first day I showed up to class with my new Yoloha gear, I had people asking me where I got it. I happily informed the group of the name brand as well as how it is better for the environment. Next thing I know, another yogi showed up with my EXACT SAME MAT……. she had purchased 2 mats exactly like mine! I took it as a compliment that I have amazing taste and ran home to make sure my mother was not also buying the POND OF HARMONY mat. She is getting the Earth Rest, so I am good!
This made us smile! The Pond of Harmony is one of our favorites too :)
XL yoga bag
big and sturdy ... very happy with it's quality and functionality
Thanks for the awesome feedback, Ian!
I t is great and comfortable ! I highly recommend y! It is one way to save the environment! It was delivered fast !
Best yoga set up ever
Love my new bag blocks and Matt.
Thanks for the great review, David!