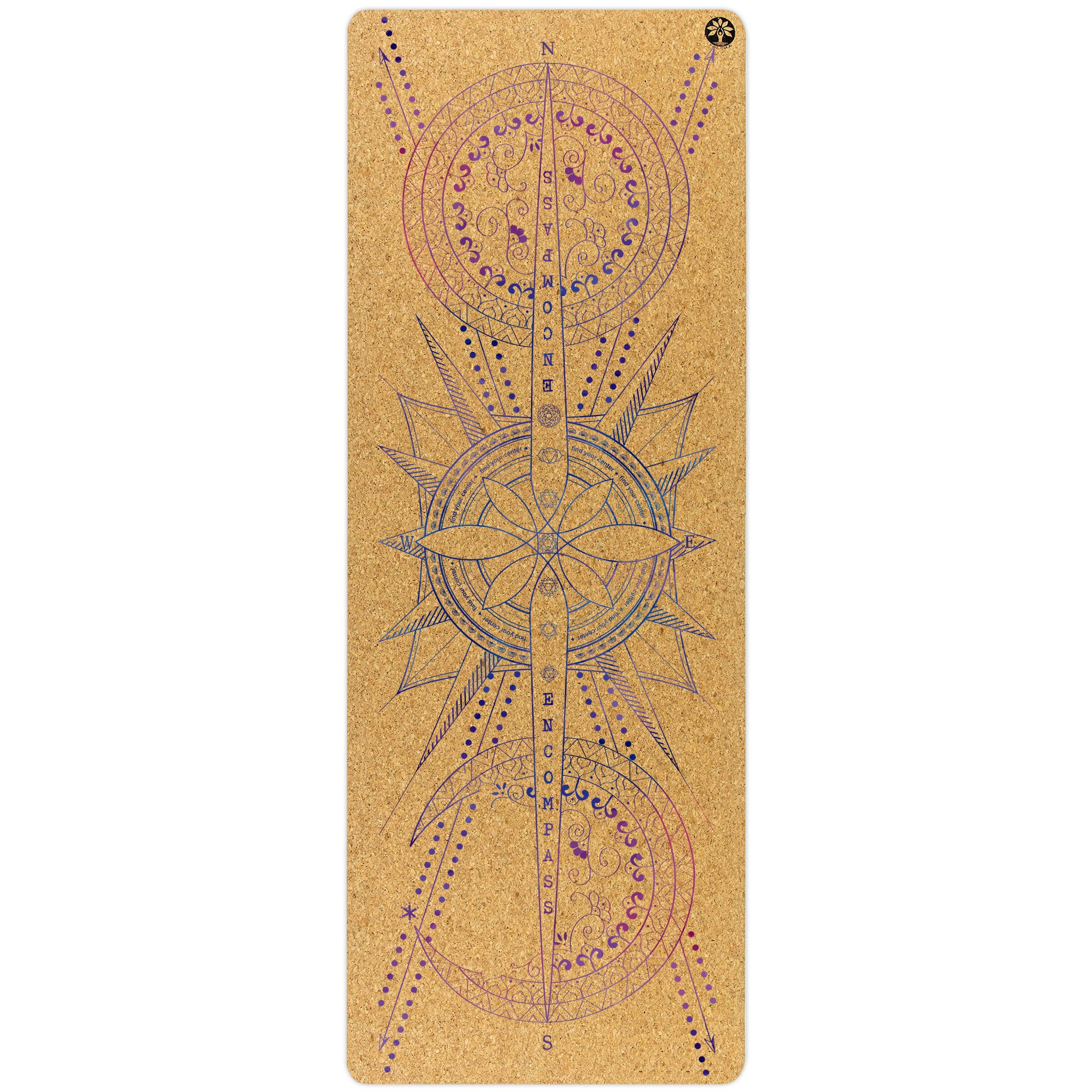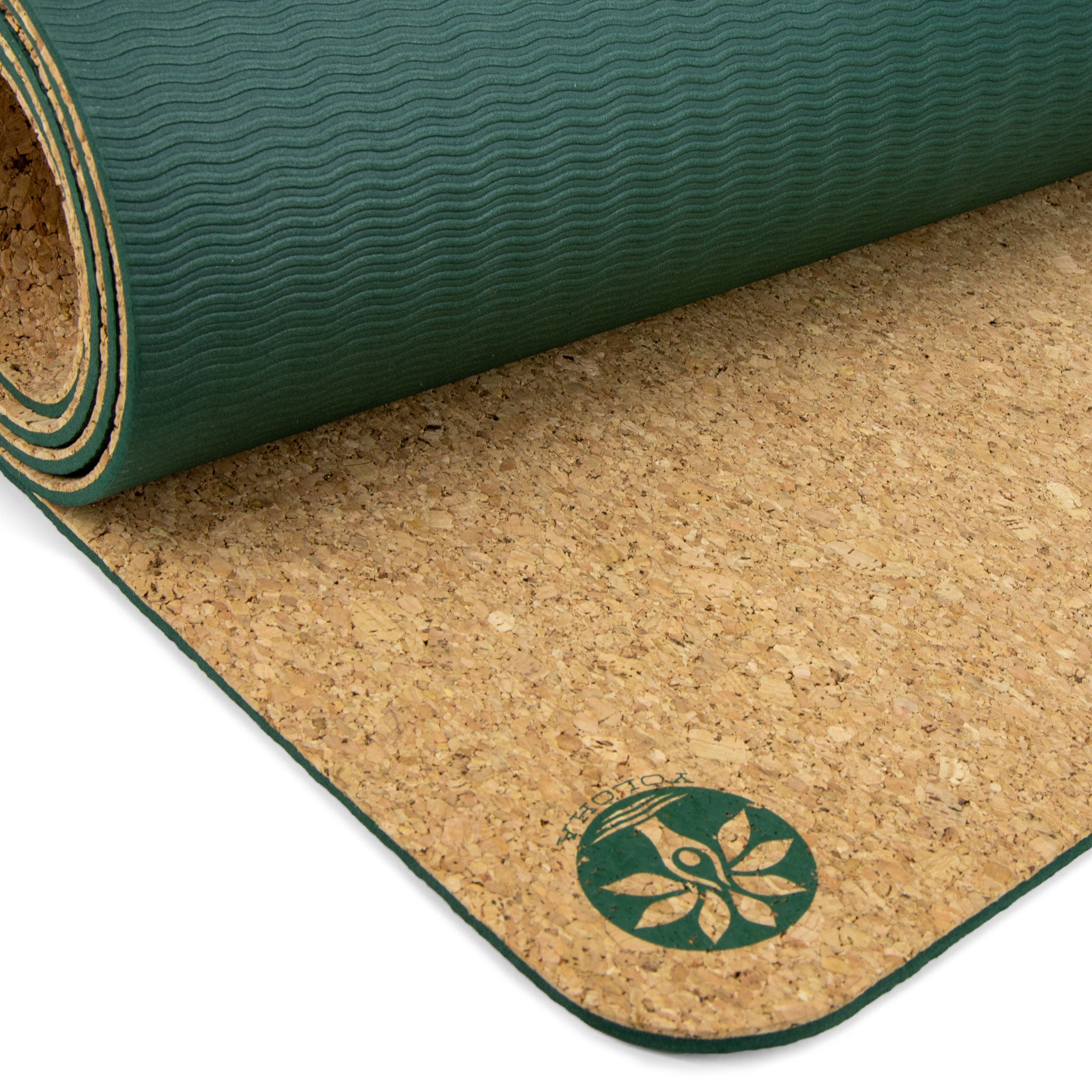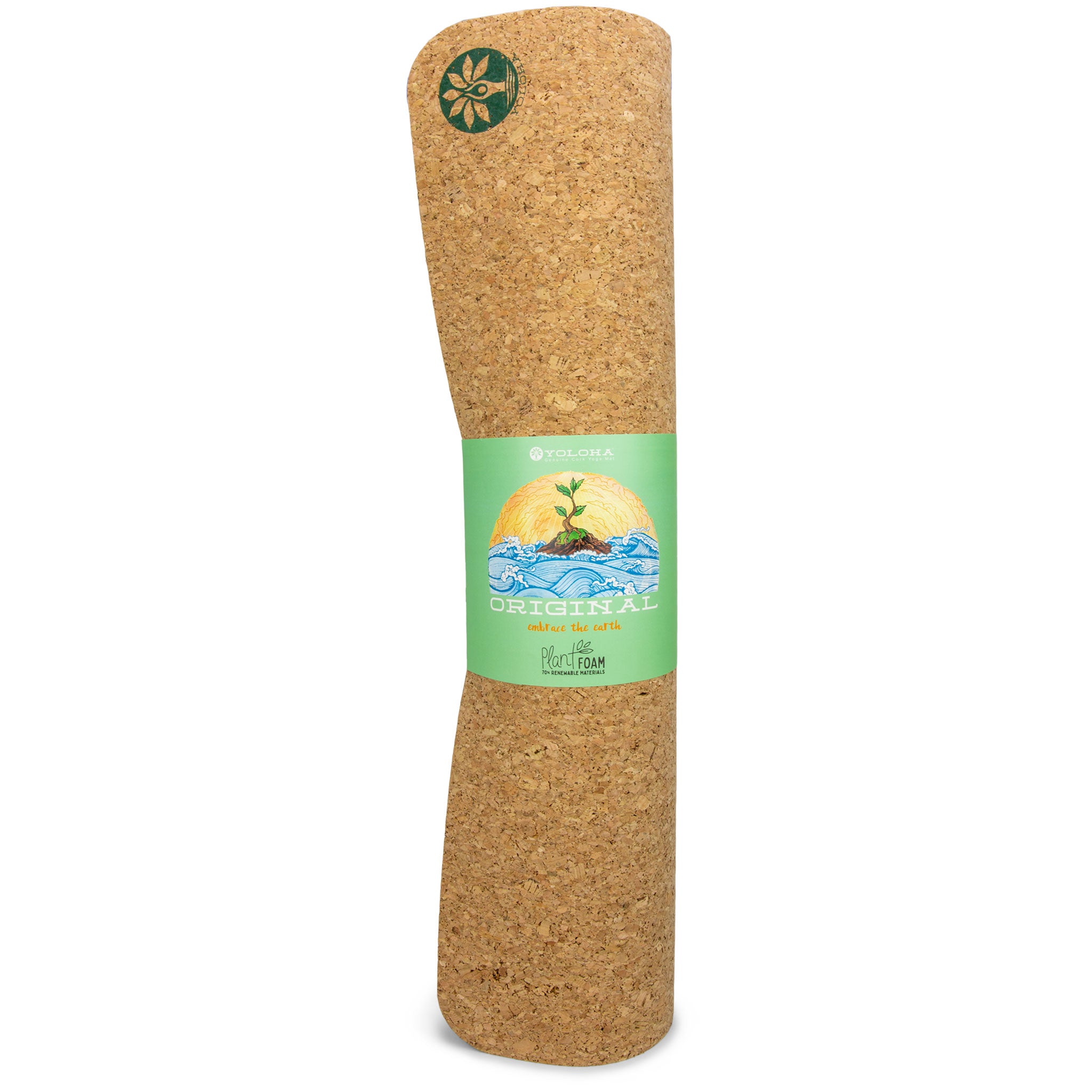 Encompass Original Cork Yoga Mat
The Original reimagines how a yoga mat made from 70% renewable materials can be so high performing for any practice. The world's first cork yoga mat uses a premium layer of extra thick cork for a grounded, non-slip experience dry or wet with no need for a towel. Our non-toxic foam bottom is optimized for cushion, stability and energy return.
6mm thick | 2.8 lbs. | 5.5" rolled
Non-slip dry to heavy perspiration.
Made with 70% renewable materials.
Ideal balance of comfort and support.
Lightweight and portable yet grounding.
Always lays flat, will never slide or bunch up.
Easy to care for and keep clean.
No PVC's, latex, plasticizers or rubber smells.
100% vegan product.
Free shipping on USA orders over $175.
Return shipping is FREE within 30 days for all USA states excluding Alaska, Hawaii and USA territories.
Lightly spray with Yoloha mat cleaner or natural cleaner after use and lay flat to dry.
Grip Tip: Cork increases grip when wet. Use our grip spray or sprinkle water on your mat where your hands and feet go before practice for extra traction.
The ORIGINAL
All-around high performance.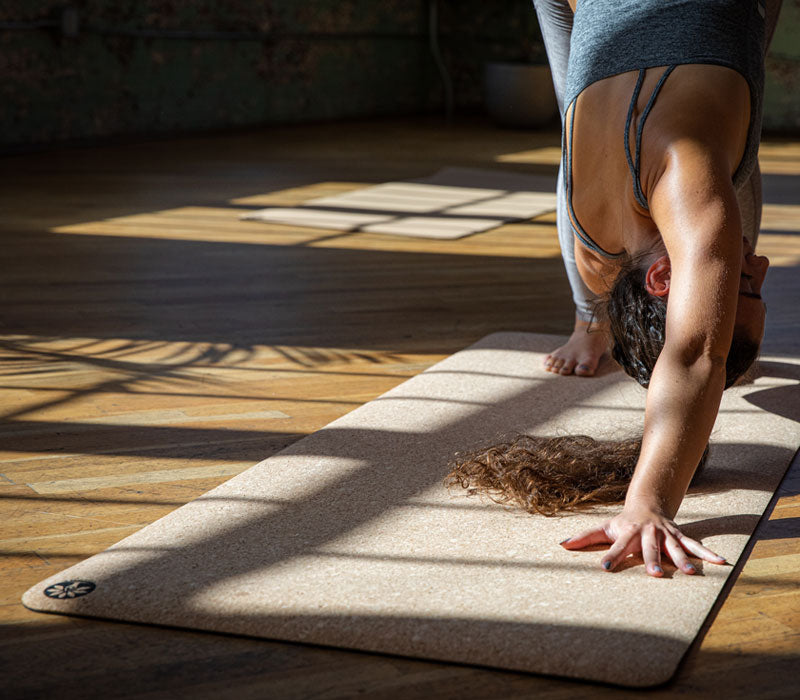 performance done naturally
Extra thick cork surface is designed to perform even during the sweatiest classes. No rubber smells or bunched up mats. Ditch the towel and focus on one thing, your practice.
feel grounded and connected
Our signature cork and foam blend is optimized for cushion, stability and energy return. 100% natural cork surface allows you to feel grounded and connected with the earth.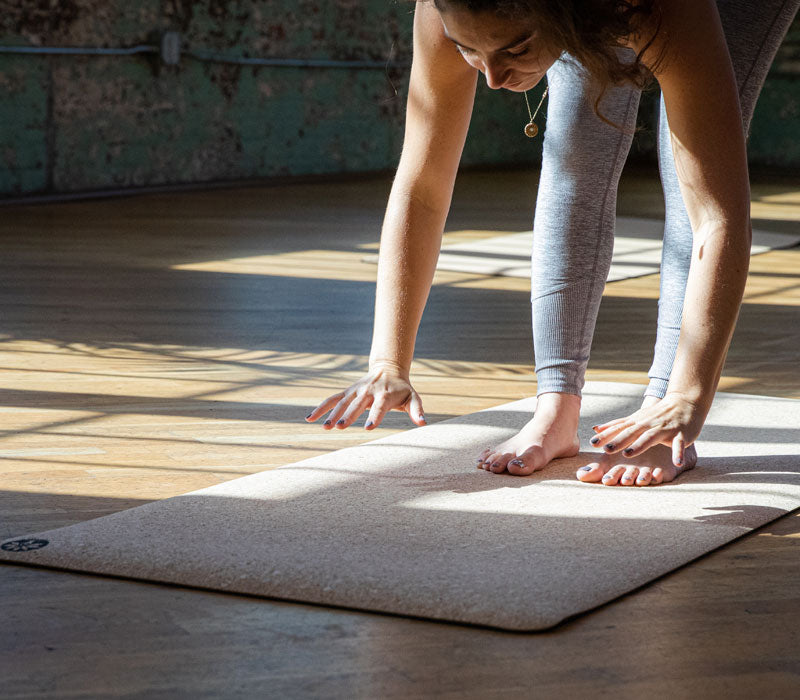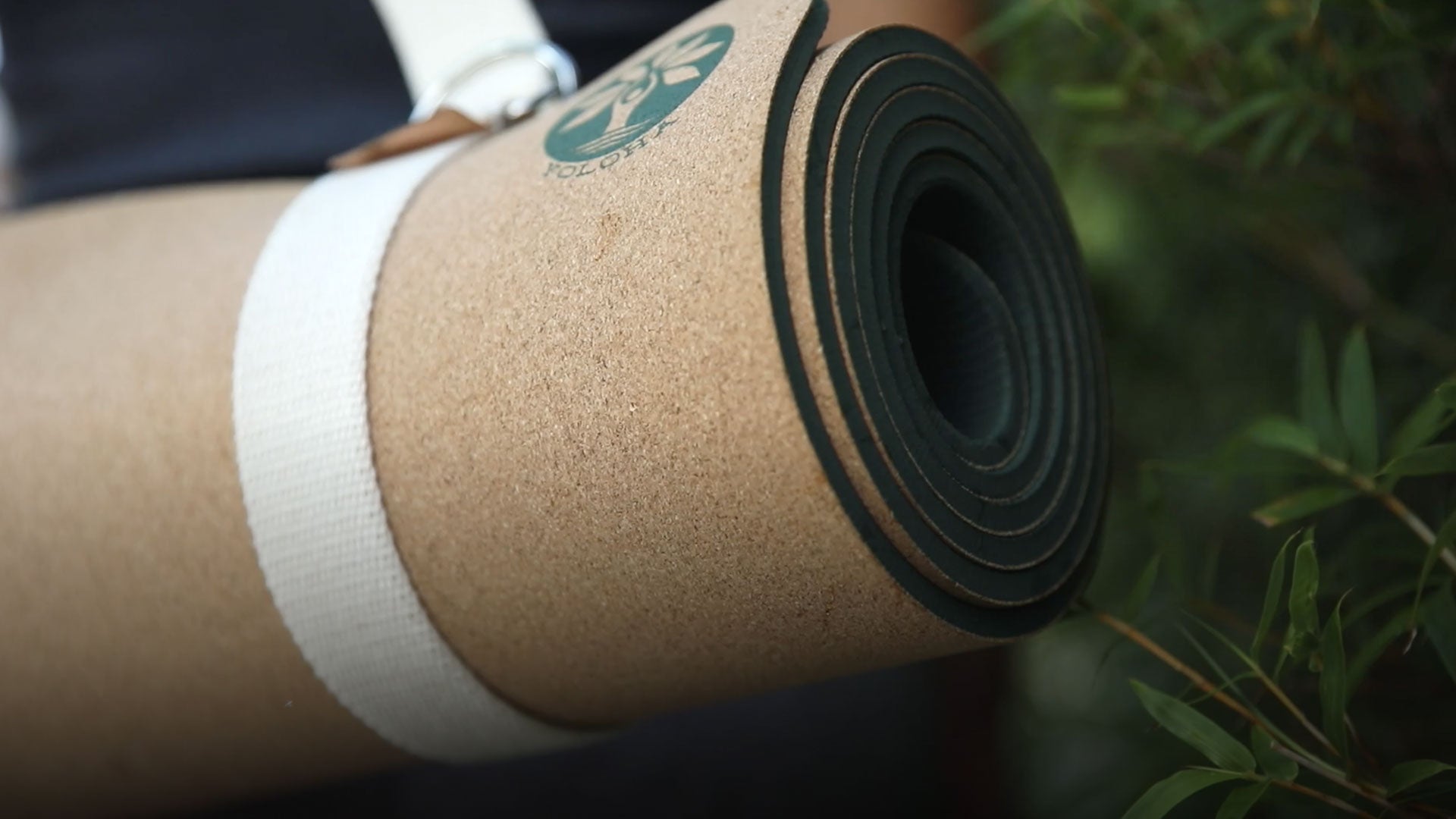 foam made from plants
Developed out of our effort to reduce the environmental impact on our planet, 55% of the foam on the Original is made from sugarcane. Combined with our sustainable cork surface we have achieved a yoga mat made with 70% renewable materials.
Yoloha Cork Yoga Mat
I love it! I have increased my practice and really wanted a comfortable mat. So glad I made the purchase. Thanks
Good grip, lovely artwork, mild smell that goes away
Overall pleased with my new Yoloha yoga mat. It's so gorgeous I don't usually roll it up to put it away. The grip, especially as you sweat, is fantastic. I do mostly gentle flow yoga, and had been hoping that at 6mm thick the mat would be a little more cushy, which means I probably should have gone with the Aura mat. Initially, there is a faint plastic/chemical smell to the mat for those like me with extreme scent sensitivities. Not enough to give me a headache thankfully, and after a few weeks of airing out all I can smell is the cork. I'll enjoy this mat for a long time, it is well constructed. I'd love to see Yoloha make a cork and natural rubber mat though, as those are actually biodegradable.
Hi Cassandra! Thanks for taking the time to write this review, we really appreciate the feedback!
Hot Vinyasa Approved
Purchased for my wife whom is a long time student of Hot Vinyasa. Impressed with how light this matt is compared to another competitor brand that has high grip that eventually wears out and looks terrible after multiple sweat sessions.
Thanks for the kind words, Micah!
The most comfortable mat ever! The grip is outstanding. I love that these mats are latex free, and light weight to carry. Favorite ever!
My Hot Yoga Mat
I really enjoy my Encompass as it helps me to stay firm and not slip on my pad after a half gallon of sweat! I simply wipe it down and air it out after each use! I love the smell of the cork and it's so light! Great pad! Looking forward to seeing how long it will last before I need a new one! Great construction! I would happily recommend this to any yogi that wants a non-slip mat!
Thank you so much for your review! We are so glad to hear that you've been enjoying your new mat.
Nothing good to say I guess
It's been 3 weeks and I still haven't received my mat. Reason I gave 2 Stars is because I got a refund for the shipping. I don't know what to say…
Ordered 2 yoga mats and never received them
I recently ordered two yoga mats and they were not received. Please contact me ASAP and let me know when they will arrive?
Hi Tom! According to your tracking information, it appears your mats arrived on Fri 10/6. If you did not receive them, please email us at info@yolohayoga.com so we can get this sorted for you!